Four Twenty 420 Mens Shirt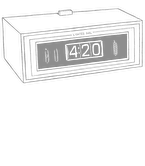 About This Shirt

The year 1971 sparked a marijuana counterculture term that has rocked the entire group of people who follow it. For forty years now, the term four-twenty has become a term we will always associate with our dear friend, Mary Jane. In this year, a group of teenagers who called themselves "The Waldos" were on the search for an abandoned marijuana plant and designated 4:20 as their meeting time. As the search proved fruitless, the term caught on and has permeated cannabis counterculture for decades. Whether it is the twentieth of April or twenty-after-four in the afternoon (or morning), you know what time it is. It's time to toke up! So pack up the bong at 4:20 (morning, night, or both!), put on "Dazed and Confused", and enjoy some bong rips for the Waldos, the boys who lived their dope-inspired dreams so hard that their lifestyle became a part of the bigger picture. Their failure became our victory. So, be sure to pick up this custom 420 shirt from Strange Cargo so that no matter where you are, you can look down at your custom tee, tank or hoodie and see that it is time for some blunts. With this shirt it is always 4:20, so make sure to keep the party going not just for yourself, but for those kids who changed the world back in 1971 as well.
Have questions about our shirts? Need details on sizing and fit? Get all your questions answered right here.
We offer USPS Priority Mail shipping for all orders to anywhere within the United States. Want to know when you'll receive your stuff or how we ship? All is revealed in our frequently asked questions.