F The Goat Men's Shirt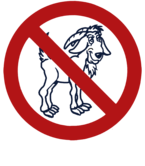 About This Shirt

Call it coincidence, call it crazy superstition, call it whatever you want. One thing is for sure: Billy Sianis?s goat has caused a lot of trouble for the Chicago Cubs! Insulting that goat has caused nothing but trouble and heartache for the Chicago Cubs and their dedicated fans. Sam Sianis says that in order to break the curse, Wrigley Field must embrace goats and love them. You know what we say to that? To hell with superstition! To hell with odd coincidences! To the curse we say F**K THE GOAT! Not only do we say F**K THE GOAT, we proudly display it on our tees to show the world, to show Cubs fans and to show Wrigley Field that there is no curse. So, stop hanging butchered goats from the Harry Caray statue (seriously, stop that), stop leaving goats outside of the field and stand up and proclaim, ?F**K THE GOAT!? The way we break the curse is to stop believing in the curse. Once that happens, Mike Quade can lead Aramis Ramirez, Marlon Byrd and the rest of the Cubbies to a World Series victory! We deserve a World Series title, so forget the goat! Sport this shirt to remind everyone that the curse is in our heads!
Have questions about our shirts? Need details on sizing and fit? Get all your questions answered right here.
We offer USPS Priority Mail shipping for all orders to anywhere within the United States. Want to know when you'll receive your stuff or how we ship? All is revealed in our frequently asked questions.