Enjoy Cocaine Men's Shirt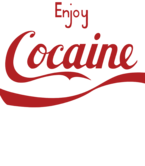 About This Shirt

Word around the campfire is that Coca-Cola used to have traces of cocaine in the original formula. Whether it is true or not, you cannot deny that this design is perfectly appropriate for the drug of glam rockers and eighties yuppies. It was a drug you would find when dancing the night away at Studio 54 in the seventies with Andy Warhol, Liza Minnelli, Warren Beatty, Debbie Harry, Mick Jagger, Jerry Hall, Bianca Jagger, Cher and Michael Jackson. It was a drug you would find in the eighties when hanging out with people who belonged in the movie "Wall Street" with Michael Douglas, a drug you would do before going out and voting for Ronald Reagan, a drug you would enjoy before going out for a long night of doing the Wang Chung with your Flock of Seagulls haircut. The seventies and eighties were the perfect decades for doing hot rails off of a mirror (or a magazine with your face on it). They were decades of decadence, excess and glamour. Excessive eye make-up, platform shoes, wild colors and cocaine made up a two decades where everyone enjoyed cocaine like Coca-Cola. So think of those freer decades with this Enjoy Cocaine design on your favorite tee shirt, tank top, or hoodie only from Strange Cargo.
Have questions about our shirts? Need details on sizing and fit? Get all your questions answered right here.
We offer USPS Priority Mail shipping for all orders to anywhere within the United States. Want to know when you'll receive your stuff or how we ship? All is revealed in our frequently asked questions.