Eat Shit Mens Shirt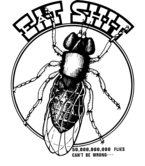 About This Shirt

Some tee shirts are designed to make the world a better place. The classic yellow smiley face tee shirt was created to help people spread peace and happiness across the land. For the most part, tee shirts are here to make the world a more fashionable, happy place. Some tee shirts, however, were designed to establish a balls-out, confrontational honesty that the public must acknowledge. Sometimes you don't want to wear the yellow smiley face shirt. Days like that are made for this brutally honest "Eat Shit" tee-shirt. Exclusively from Strange Cargo, this shirt brings that in-your-face, Devil-may-care realness that needs to be injected into the everyday world. Get this design today on your favorite American Apparel tee shirt, your favorite baseball tee, or tank top so that you are ready to bring the thunder no matter what the weather may be. Keep the masses in check with your realness, with your fashion, and with your badass attitude displayed proudly across your chest. When it's an in-your-face design you need, Strange Cargo will always be there for your needs. Get this today and start letting the world know how you truly feel.
Have questions about our shirts? Need details on sizing and fit? Get all your questions answered right here.
We offer USPS Priority Mail shipping for all orders to anywhere within the United States. Want to know when you'll receive your stuff or how we ship? All is revealed in our frequently asked questions.