Don't Drink And Dial Mens Shirt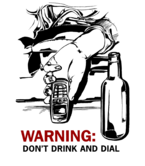 About This Shirt

In the good old days, before people carried their phones on them at all times, there was a certain safety involved in drunk dialing someone. There was no such thing as caller ID, so the person you were calling would have no idea who you were as you slurred through your drunken confession of love or screamed about how great your night was. There was also no way they could call you back after your awkward hang-up at the sound of their voice. Now, technology has advanced so there is no way to drunk dial in a classy, old-fashioned way. This time-honored drunken tradition is gone; now, it is best to follow the advice of this custom design: Don't Drink and Dial. Shut your phone off or give your phone to a friend if tempted to make that fatal phone call. You will thank yourself in the morning when you come to and find no missed calls on your phone. You will feel better when you do not have to use your unread text messages to decode the events of the previous night. Put down the phone, pick up the beer, and find yourself some real people to scream at. Don't drink and dial. This advice may just save your friendships and relationships!
Have questions about our shirts? Need details on sizing and fit? Get all your questions answered right here.
We offer USPS Priority Mail shipping for all orders to anywhere within the United States. Want to know when you'll receive your stuff or how we ship? All is revealed in our frequently asked questions.