Dicknose Men's Shirt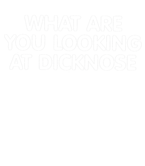 About This Shirt

We all know how a family curse transformed Scott Howard from invisible teen to Beacon Hills High Beavers basketball superstar werewolf! Who wouldn't want to be a Wolf Buddy (especially when your wolf buddy is eighties sensation Michael J. Fox)? Though there were plenty of lycanthrope-related special effects and great scenes that make high school basketball look like the coolest thing in the fucking world, the only thing that stole the show from Scott Howard and his high school wolf antics is the wardrobe of Stiles. Yes, tee shirts that say things like, "Life Sucks Then You Die" were bright beacons of truth placed in an entertaining werewolf-themed teen movie. Of all of his great tees, the one that shines brightest is the real question we are all asking in our hearts, "What Are You Looking At Dicknose." Thanks to Strange Cargo, you too can be as stylish as Stiles and get your eighties fashion on with this timeless phrase on your favorite tee shirt. Don't dawdle; get yours today to make sure that you are the coolest kid at Beacon Hills High School. Fuck the Dragons; make your wardrobe matter with this great "Teen Wolf"-inspired tee shirt from the Windy City's favorite custom tee shirt shop, Strange Cargo.
Have questions about our shirts? Need details on sizing and fit? Get all your questions answered right here.
We offer USPS Priority Mail shipping for all orders to anywhere within the United States. Want to know when you'll receive your stuff or how we ship? All is revealed in our frequently asked questions.