Da Coach-Da Bears Mens Shirt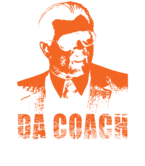 About This Shirt

Chicago does not demand much of its residents. Sure, you have to at least try a Chicago Dog. Yes, you have to pick a side for the crosstown showdown between the Cubs and the White Sox. Okay, you have to start referring to ?east? as ?the Lake?. These are minute points. The real point, the only truth, the one nugget of knowledge that you must carry with you as a Chicagoan is knowing who Da Coach ?Iron Mike? Ditka is. All Chicago asks is that you know who he is and recognize his mighty mustache when you see it in pictures about town. You do not have to praise the pork chops (but you absolutely should!) You do not have to know that Da Coach is one of two people in the history of the National Football League to win Super Bowls as a player, an assistant coach, and as Da Coach! Who was there for the last two Chicago Bears championship successes? That would be Mike Ditka! Walter Payton, Jim McMahon, and the rest of his 1985 Super Bowl Champions are tied with the undefeated 1972 Miami Dolphins for the title of ?Greatest NFL Team of All-Time? in the minds of sports fans. Where would our Chicago Bears be without Da Coach? Whether you are a Chicago native or a die hard Bears fan, it is important to respect Da Coach for all he has done for the Monsters of the Midway.
Have questions about our shirts? Need details on sizing and fit? Get all your questions answered right here.
We offer USPS Priority Mail shipping for all orders to anywhere within the United States. Want to know when you'll receive your stuff or how we ship? All is revealed in our frequently asked questions.