Comiskey Park Men's Shirt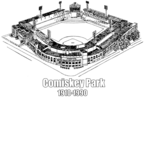 About This Shirt

It hurts a little to say that he Chicago White Sox play at US Cellular Field. We still think it should be called Comiskey Park. In fact, most of Chicago agrees with our strong stance on keeping names the same. It has nothing to do with refusing to accept change; it has everything to do with keeping Chicago traditions alive. We refuse to call US Cellular Field anything but Comiskey. The same holds true for the Willis Tower; it is the Sears Tower. Please refer to these places by their real names because this is Chicago and we like our traditions and our history: we like our Chicago dogs without ketchup, we like our river running backwards, and we like our landmarks to keep their names. However, something as trivial (read: really important) as a name change should not prevent us from enjoying some summertime fun watching baseball down on 35th. So crack open a frosty Miller High Life, get ready for a spectacular fireworks display to celebrate homeruns, and throw up the horns for some AC/DC "Thunderstruck". Just be sure to let everyone know you are a dedicated fan of Ozzie and the boys by telling your cab driver that you want to go to Comiskey, not US Cellular Field.
Have questions about our shirts? Need details on sizing and fit? Get all your questions answered right here.
We offer USPS Priority Mail shipping for all orders to anywhere within the United States. Want to know when you'll receive your stuff or how we ship? All is revealed in our frequently asked questions.