Chicago Rats Men's Shirt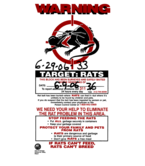 About This Shirt

Down every alley, under bushes and under stairs, hiding in the depths of the trash can behind your building and behind every building--there is a terror, a heart-stopping horror that can make a grown man shriek, make a woman flee, and could possibly overpower a child or pet. Wherever there is old food and rotting garbage in Chicago--from the South Side to Evanston--there are rats. They are not just rats, they are monstrous rats. They are the shadows in the night that creep down alleys, through landscaping and charge at you. Some of the street rats roaming the alleys of the Windy City are as big as cats. Be sure to wear this custom tee around Chicago to keep others alert for these beasts that roam through trash and waste and scurry at us in the dead of the night as we make our way to our homes. Rats in the Second City can smell your fear and they can smell your trash and they will prey on both for survival. So, put this design on your favorite tee shirt at Strange Cargo and alert the masses, alert everyone you pass on the street, make sure everyone is aware of the rodent danger in alleys...before it's too late.
Have questions about our shirts? Need details on sizing and fit? Get all your questions answered right here.
We offer USPS Priority Mail shipping for all orders to anywhere within the United States. Want to know when you'll receive your stuff or how we ship? All is revealed in our frequently asked questions.