Che Guevara men's Shirt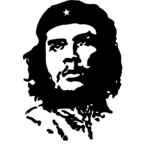 About This Shirt

When Jim Fitzpatrick made pop art from Alberto Korda's "Guerrillro Heroico," he encouraged everyone to create their own art from the iconic image. The idea spread like fire and now the portrait of Che Guevara that was captured on a memorial service in March of 1960 captured the idea of revolution and has become a staple of pop imagery. Hunter S. Thompson was not only photographed several times with "Guerrillro Heroico" on his shirt but also had a large poster of the image in his home. Hunter S. Thompson protege, Johnny Depp, has been photographed wearing a Che Guevara pendant. Prince Harry has been photographed in a tee shirt sporting the iconic image of Che. Revolutionary rap artist Jay-Z rapped, "I'm like Che Guevara with bling on" and often wears Alberto Korda's image on various shirts. Now you can join the revolutionary fashionistas with your very own pop art image of "Guerrillro Heroico" from Chicago's most fashionable tee shirt shop, Strange Cargo. Get this famous image on your favorite tee shirt, tank top, or baseball tee and join the ranks of other fashionable motherfuckers who know that rebellion is always in style! Get this great design today and Viva la fashion revolution!
Have questions about our shirts? Need details on sizing and fit? Get all your questions answered right here.
We offer USPS Priority Mail shipping for all orders to anywhere within the United States. Want to know when you'll receive your stuff or how we ship? All is revealed in our frequently asked questions.