Buy Me A Shot I'm Tying The Knot Mens Shirt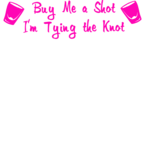 About This Shirt

The wedding day is almost here. The flowers are picked out, the guests have sent in their RSVPs, the dress is ready for its big day, the caterer has made the final preparations for the menu, and the champagne is ready to be uncorked. With all that has gone into planning the big day, one of the most important wedding events is celebrating the final night of freedom with your friends at your bachelorette party. This is the night to say good-bye to your life as a single lady with a bang and shots of Patron, Grey Goose, Jose Cuervo, Jameson, Jack Daniels, and Jim Beam. There is no reason to go into married life without the world's greatest hangover. Get your best girls together and get this great design on your favorite tee shirt or tank top so that everyone in the bar knows that you mean business, that you need more shots than you have ever taken before, and that you might just get up on the bar and dance to celebrate your last night of freedom. So get your ladies together and get ready for the last hurrah before your life of eternal couplehood with this great custom shirt exclusively from Strange Cargo!
Have questions about our shirts? Need details on sizing and fit? Get all your questions answered right here.
We offer USPS Priority Mail shipping for all orders to anywhere within the United States. Want to know when you'll receive your stuff or how we ship? All is revealed in our frequently asked questions.