Buy Me A Beer My Wedding Is Near Mens Shirt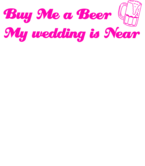 About This Shirt

With the final hours until the wedding being counted down and the final moments of freedom rapidly flittering away, there are a few precious moments left in your life to party down with your friends and family before you become coupled forever, leaving the nightlife and the bar scene behind you. Before walking down that aisle and slipping on that ring, you have got to get wild and crazy with your friends and enjoy your final night of being single. For this last blast, you will want to take advantage of those celebrating your wedding and mourning the death of your freedom by getting them to buy you Old Style, Stella, Miller High Life, Budweiser, and Blue Moon. What better way to score free drinks in preparation for your wedding than with a custom tee shirt exclusively from Strange Cargo? This design looks fantastic on a variety of tee shirts and hooded sweatshirts, so you know you are going to look fashionable for your bachelor or bachelorette party. Let everyone in the bar know that you are on your way to being a downright, upright married person and that you are going to need a few drinks to celebrate beforehand.
Have questions about our shirts? Need details on sizing and fit? Get all your questions answered right here.
We offer USPS Priority Mail shipping for all orders to anywhere within the United States. Want to know when you'll receive your stuff or how we ship? All is revealed in our frequently asked questions.