Bird Loves Froggy Prince Mens Shirt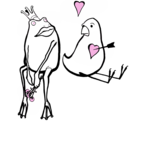 About This Shirt

Great royal romances are a common thread in world history. Ancient history provided us with the scandalous love between Mark Antony and Cleopatra. The historic love of Ferdinand II and Isabella I is one that helped launch a misguided Christopher Columbus westward to haphazardly land in what is now the United States of America. Queen Victoria loved Prince Albert so deeply that upon his death she retired from public view and was only seen wearing black for the remaining years of her life. Josephine and Napoleon Bonaparte were the eccentric and powerful royal couple in post-Revolution France. The love between Eleanor of Aquitaine and Louis VII brought about a renaissance in Medieval Europe. Of course, before Prince William and Kate Middleton, there was Prince Charles and Lady Diana, who produced beautiful English heirs, created tabloid scandal across the United Kingdom and the world, and gave the world it's perfect princess. Keeping in line with the great royal romances of time, Strange Cargo delivers the love between Bird and Froggy Prince. Get this pair of adorable lovers on your favorite tee shirt, tank top, baseball tee, or hooded sweatshirt to remind you and everyone you meet that true love lies in unexpected places.
Have questions about our shirts? Need details on sizing and fit? Get all your questions answered right here.
We offer USPS Priority Mail shipping for all orders to anywhere within the United States. Want to know when you'll receive your stuff or how we ship? All is revealed in our frequently asked questions.