Abraham Lincoln with Boom Box men's Shirt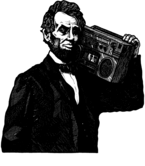 About This Shirt

Abraham Lincoln was our first Republican President. He was the sixteenth President of the United States of America, he freed the slaves with the Emancipation Proclamation, he was a lawyer from Springfield, Illinois, and he loved jamming out while writing historical speeches like "The Gettysburg Address" to killer acts like RUN DMC, the Wu-Tang Clan, Naughty By Nature, Public Enemy, Digital Underground, Cypress Hill, The Fugees, the Beastie Boys, the Roots, De La Sol, and N.W.A. It is easier to write history-changing speeches and legislation with a blasting beat from a sweet boom box. A little known fact: Abraham Lincoln could not hear John Wilkes Booth sneaking up behind him because he was distracted by the sweet stylings of RZA, GZA, ODB, Ghostface Killa, Inspectah Deck, Method Man, Raekwon, Masta Killa, and U-God. There was no way to distract him from the great sounds of the 36 Chambers. There is nothing better than the combination of sweet beats, great rhymes, and freedom. Celebrate all three of those awesome things with this great original Abraham Lincoln tee shirt design exclusively from Chicago's finest custom tee shirt shop, Strange Cargo. Get this phat design on a variety of tees, tanks, and hooded sweatshirts and show that you love the killer combo of freedom and beats.
Have questions about our shirts? Need details on sizing and fit? Get all your questions answered right here.
We offer USPS Priority Mail shipping for all orders to anywhere within the United States. Want to know when you'll receive your stuff or how we ship? All is revealed in our frequently asked questions.