Abbie men's Shirt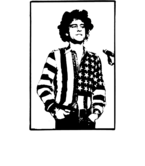 About This Shirt

Prior to his arrest in Lincoln Park during the 1968 Democratic Convention, Abbie Hoffman told the arresting officers, "The first duty of a revolutionist is to get away with it. The second duty is to eat breakfast. I ain't going." With a longstanding career of upsetting the best laid plans of the establishment, Abbie Hoffman definitely fulfilled the first duty of a revolutionist. Starting with the formation of the Youth International Party, the Yippies, in 1967, Abbie Hoffman kicked off a great career of making noise and creating direct action. Almost a year after forming the Yippie Party, Hoffman and six others were arrested at the 1968 Democratic Convention and charged with conspiracy and inciting to riot. After much protest in support of the famous Chicago Seven, the group was found not-guilty. He interrupted The Who's performance at Woodstock to speak out against the incarceration of John Sinclair, the leader of the White Panthers. In the spring of 1974 he skipped bail after being arrested for possession of cocaine, got cosmetic surgery to change his appearance, and went into hiding. He could not resist his urge to take action, though, and resurfaced in 1986 to protest the CIA recruiting program at the University of Massachusetts. Naturally, he was arrested and found not-guilty. Abbie Hoffman lived up to the first duty of a revolutionist, and you should celebrate his spirit for change and his passion for action by wearing this design on your favorite tee shirt, hoodie, or tank top to your next demonstration or protest.
Have questions about our shirts? Need details on sizing and fit? Get all your questions answered right here.
We offer USPS Priority Mail shipping for all orders to anywhere within the United States. Want to know when you'll receive your stuff or how we ship? All is revealed in our frequently asked questions.