Eat Meat Mens Shirt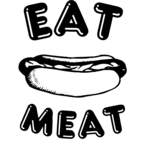 About This Shirt

There is no easy way to promote your love of meat. In a world where the consumption of meat is viewed as inhumane, in a world where vegan and vegetarian pride reigns supreme, it is difficult to not only be okay with your food preference, it is almost shameful. NO MORE, MY FRIENDS! Now there is a perfectly acceptable way to show your love of bacon, hamburgers, steak, hot dogs, pork chops, glazed ham, tenderloins, fried chicken, turkey legs, shrimp egg rolls, pork fried rice, chicken nuggets, gyros, mutton stew, chicken noodle soup, smoked salmon, beef jerky, Hot Doug's sausages, swordfish, potstickers, beef stromboli, pepperoni pizza, and salami. There is no shame in being a carnivore. Whether you like your meat kosher, well done, burned to a crisp, or bloody as hell, this tee shirt is for that part of you that loves a good grilled brat on a warm summer afternoon. Get your ketchup, get your mustard, get your ranch, your barbeque sauce, your mayonnaise, and your relish for a good time eating good meats (just be sure not to get your condiments on your new shirt!) Get this fantastic custom tee shirt today exclusively from the one-stop-shop for super custom tees, Strange Cargo.
Have questions about our shirts? Need details on sizing and fit? Get all your questions answered right here.
We offer USPS Priority Mail shipping for all orders to anywhere within the United States. Want to know when you'll receive your stuff or how we ship? All is revealed in our frequently asked questions.