Get Your Shit Together Mens Shirt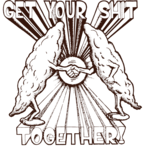 About This Shirt

If there is one thing everyone needs to do, it's that everyone needs to get their shit together. Down at Soldier Field Jay Cutler, Brian Urlacher, Matt Forte, and the rest of the Monsters of the Midway need to get their shit together, make Ditka proud, and bring a Super Bowl Championship back to the Windy City. Up at Wrigley Field, Theo Epstein, Dale Sveum, Alfonso Soriano, Starlin Castro, and the other boys of summer need to get focused and get their shit together to finally get a World Series Championship after over one hundred years. President Obama, Speaker Boehner, and the rest of the politicians in Washington DC need to stop bitching, stop squabbling, and get their shit together so they can start doing right by the American people. It seems like there has never been a more appropriate piece of advice for the United States and the world than "Get your shit together!" Tell the world that it is time to get focused, get busy, get revolutionary, and get their shit together with this great custom tee shirt design exclusively from the Windy City's best custom tee shirt shop, Strange Cargo, and start a chain reaction of change for a better world.
Have questions about our shirts? Need details on sizing and fit? Get all your questions answered right here.
We offer USPS Priority Mail shipping for all orders to anywhere within the United States. Want to know when you'll receive your stuff or how we ship? All is revealed in our frequently asked questions.