Mustache of Champions, Ditka, Jackson, Quenneville Mens Shirt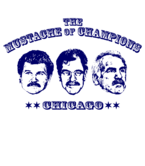 About This Shirt

When you see these three beautiful faces, it inspires you to pen a strongly-worded letter to the Chicago Cubs and demand a manager with fantastic facial hair. These three faces should be carved into a mountain and give Mount Rushmore a run for its money. However, even Michelangelo di Lodovico Buonarroti Simoni could not capture the majesty and the power of these three championship mustaches. First there is Iron Mike Ditka and his thirst for excellence and a Super Bowl title for the Monsters of the Midway. Then there is Phil Jackson, a bona fide Yoda of coaching basketball, who took superstars like Scottie Pippen, John Paxson and Michael Jordan to three NBA Championships. And last, but certainly not least, there?s Joel Quinville, the man who pushed the Chicago Blackhawks to become NHL Champions and brought the Stanley Cup back to Chicago for the first time in fifty years. This display of manly facial hair is inspiring to Chicago players and intimidating to any team that dares challenge the legacy of Chicago sports. Show everyone what Chicago sports are all about: winning and mustaches that would make Tom Selleck weep like a bullied schoolboy.
Have questions about our shirts? Need details on sizing and fit? Get all your questions answered right here.
We offer USPS Priority Mail shipping for all orders to anywhere within the United States. Want to know when you'll receive your stuff or how we ship? All is revealed in our frequently asked questions.