Dirty Sanchez Mens Shirt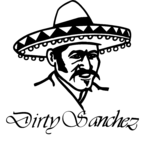 About This Shirt

Here at Strange Cargo, we are all about one thing: class! The classiest part of our store is the section of rude, crude, and lewd tee shirt designs The crown jewel of this raunchy crown may be the classic Dirty Sanchez shirt. Yes, Strange Cargo is brave enough, bold enough, and daring enough to create a shirt to help you express your love of enjoying consensual scatting. Whereas Dan Savage, our beautiful sex expert supreme, says that the act is a total urban legend, we are certain that since the idea of the Dirty Sanchez has risen to such great popularity some people have most definitely incorporated this into their bedroom made of scatting. Be sure to pick up this fantastic, classy design from the best custom tee shirt shop in Chicago, Strange Cargo. We also offer custom lettering for those of you who wish to make this tee shirt a little more personal for a special sweetheart. What you do in your bedroom is your business, but if you want to brag about being one of the few people in the 1% of those who have performed the Dirty Sanchez, be sure to pick up this great custom tee from your favorite dirty tee shirt shop, Strange Cargo.
Have questions about our shirts? Need details on sizing and fit? Get all your questions answered right here.
We offer USPS Priority Mail shipping for all orders to anywhere within the United States. Want to know when you'll receive your stuff or how we ship? All is revealed in our frequently asked questions.