Drink Like A Champion Today Men's Shirt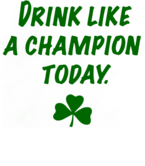 About This Shirt

The Windy City is a city that is known for its winning attitude. The Chicago Bears are Super Bowl Champions, the Chicago White Sox are World Series Champions, the Chicago Blackhawks brought home the Stanley Cup in 2010 and the Chicago Bulls have won so many NBA Championships that if we start talking about them here we will only sound like shameless braggarts. In a city of such prestige, a city of a winning spirit, and a city that celebrates Saint Patrick's Day like no other city, it is only appropriate that you adhere your drinking behavior to the victory-hungry attitude of Chicago. When it comes to drinking, the city-wide celebration of Saint Patrick's Day is the Super Bowl of drinking events. So when it comes to your celebration, don't just have a shot or two of Jameson and calmly enjoy the day. Slam a Guinness, pound a few Irish Car bombs, enjoy the deep burn of some fine Irish whiskey and drink like Iron Mike Ditka coaches football, like Michael Jordan flies and slam dunks a ball, like Patrick Kane raises the Stanley Cup above his head in victory. It is Saint Patrick's Day in Chicago; there is a high standard to maintain! So, get to your favorite Irish pub and drink like a champion today!
Have questions about our shirts? Need details on sizing and fit? Get all your questions answered right here.
We offer USPS Priority Mail shipping for all orders to anywhere within the United States. Want to know when you'll receive your stuff or how we ship? All is revealed in our frequently asked questions.