Hunter S. Thompson Men's Shirt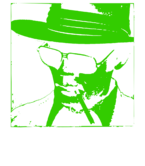 About This Shirt

The immortal Hunter S. Thompson once said, "Some may never live, but the crazy never die." From his early days stumbling around Puerto Rico in "The Rum Diary" to riding around in a convertible with John Cusack, Johnny Depp, and a blow-up doll, Hunter S. Thompson turned his madness into a lifestyle and taught us all how to lie freely. With a life that was illustrated by Ralph Steadman and involved real life-inspired characters like Doctor Gonzo, it is clear to see how "Hell's Angels: The Strange and Terrible Saga of the Outlaw Motorcycle Gangs," "Fear and Loathing in Las Vegas," and "Fear and Loathing on the Campaign Trail '72" have become not only required reading for those involved in counterculture activity, but have also become classic American non-fiction. Whether he was writing for Playboy, Rolling Stone, or the ESPN website, Dr. Thompson was always ready to give his sharp, quick-witted opinion on everything from politics to sports. Celebrate the father of Gonzo journalism, the man who influenced Matt Taibbi and Lester Bangs, with this great design on your favorite tee or tank, exclusively from Strange Cargo. With this image on your shirt, people will be sure to remember that the crazy never die.
Have questions about our shirts? Need details on sizing and fit? Get all your questions answered right here.
We offer USPS Priority Mail shipping for all orders to anywhere within the United States. Want to know when you'll receive your stuff or how we ship? All is revealed in our frequently asked questions.