Allen Ginsberg men's Shirt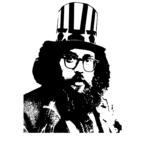 About This Shirt

The United States of America in the late 1950s and 1960s was a time of social upheaval. The idea of the nuclear family and white picket fences was rapidly crumbling as the civil rights movement began to become a force, the Vietnam War began to escalate, and America watched as its John F. Kennedy was gunned down in Dallas. In a time of turmoil and distrust, America needed a figure to bring a voice to its unrest. With Walt Whitman-inspired poems such as "Television Was A Baby Crawling Towards That Death Chamber," "Kaddish," and "Howl," Allen Ginsberg raised his voice for a generation consumed by political and social unrest. Surrounding himself with fellow artists like William S. Burroughs, Jack Kerouac, and Lucien Carr, Ginsberg rose above the rest with his epic, free-style poetry and his crusades against sexual repression, the Vietnam War, censorship, and the War on Drugs. Be sure to get this forward-thinking, controversial, and inspirational icon of American literature on a variety of tee shirts, tank tops, and hooded sweatshirts. Be sure to take advantage of our custom lettering and get a few lines from "Sunflower Sutra" or "A Supermarket in California" printed on the back of your new tee. Get this shirt today and show your pride in the Beat Generation.
Have questions about our shirts? Need details on sizing and fit? Get all your questions answered right here.
We offer USPS Priority Mail shipping for all orders to anywhere within the United States. Want to know when you'll receive your stuff or how we ship? All is revealed in our frequently asked questions.