Harry Hot Dog Men's Shirt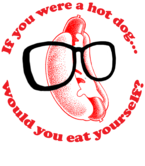 About This Shirt

Will Ferrell showed us that it takes a beloved sportscaster to teach us to look deep within ourselves, think deeper thoughts and discover universal truths our minds would have otherwise neglected. If you were a hot dog would you eat yourself? We questioned how delicious we would be. We also wondered if we were that delicious, could we resist our own appetizing self? He also used the great Harry Caray to push us to gaze up into the heavens and wonder about the infinite frontier of space, a feat that has only been taken on by the likes of James T. Kirk and Jean-Luc Picard. Would a trip to Mars with a sandwich named "Linda" and sloppy sex in the back of a dunebuggy with a dead Harry Caray be amazing? These were the questions Ray Bradbury should have been asking, but he was simply too afraid of the truth. Harry Caray guided us through Cubs losses, cheered with us during Cubs victories, rallied everyone together with a rousing rendition of "Take Me Out To The Ball Game" during the seventh inning stretch at Wrigley Field, and, through Will Ferrell, found a way to cause baseball fans and comedy fans to find deeper certainty and truth. If you were a hot dog would you eat yourself? It's a simple question! Yes or no! Hell, we would! Especially if we were cheering on the Cubbies with an ice cold Budweiser in the bleachers at Wrigley Field!
Have questions about our shirts? Need details on sizing and fit? Get all your questions answered right here.
We offer USPS Priority Mail shipping for all orders to anywhere within the United States. Want to know when you'll receive your stuff or how we ship? All is revealed in our frequently asked questions.