Let It Be Peace Flag men's Shirt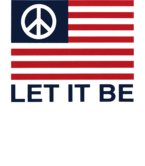 About This Shirt

Man's eternal struggle is rooted in a quest for peace, to fight against our animalistic urge for war and violence, to fight against Original Sin and overcome the need in our minds for jealousy, hatred, and greed. In ancient Greece, Aesop wrote, "Better beans and bacon in peace than cakes and ale in fear." In the Middle Ages, a time plagued by the Hundred Years War, The War of the Roses, and the Crusades, Saint Francis of Assisi wrote, "If you have men who will exclude any of God's creatures from the shelter of compassion and pity, you will have men who will deal likewise with their fellow men." Through the twentieth century, as warfare became mechanized and more destructive, as racism and bigotry clouded man's judgment, and as wars were waged for crooked ideals, mankind still stood up and questioned why we could not live in peace. In the period between World War I and World War II, Virginia Woolf found herself sandwiched between two bloody wars and said, "You cannot find peace by avoiding life." As Vietnam came to an end and as the dam holding Watergate back from the public broke, John Lennon said, "If everyone demanded peace instead of another television set, then there'd be peace." The Dalai Lama XIV, while living in exile after the violent 1959 Tibetan Uprising, said, "World peace must develop from inner peace. Peace is not just mere absence of violence. Peace is, I think, the manifestation of human compassion." If so many people are demanding peace, where is it? Remind people that the world does not have to be violent and hateful. Let there be peace on earth, and let it begin with you.
Have questions about our shirts? Need details on sizing and fit? Get all your questions answered right here.
We offer USPS Priority Mail shipping for all orders to anywhere within the United States. Want to know when you'll receive your stuff or how we ship? All is revealed in our frequently asked questions.