I'm A Polka Nut men's Shirt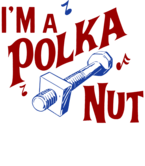 About This Shirt

Originating in the Czech Republic in the nineteenth century, the sensational, catchy music known as polka has taken Europe and the world by storm! With its uplifting accordion melodies and heart-lifting oom-pahs of the tuba, the phenomenon of polka remains a global favorite, despite the fact that it is constantly eclipsed by genres like rock and roll, R&B, hip hop, metal, country, and pop. Polka remains so popular that people in the Windy City have their own styles of polka. The "Chicago Honky" and the "Chicago Push" are two unique styles of this genre of music that were born out of a heavy Polish culture, a diet of Chicago dogs, Old Style beer, and deep dish pizza. Pop culture icons like Lawrence Welk and Weird Al Yankovic are not only polka nuts but polka performers as well! Let the catchy polka rhythm get your dupa shaking on the dance floor! Get on your lederhosen and get a custom I'm A Polka Nut tee shirt, tank top, or hooded sweatshirt and get ready to party down at your next polka bonanza! You won't want to miss out on this great custom design from Strange Cargo, so get your polka shirt today!
Have questions about our shirts? Need details on sizing and fit? Get all your questions answered right here.
We offer USPS Priority Mail shipping for all orders to anywhere within the United States. Want to know when you'll receive your stuff or how we ship? All is revealed in our frequently asked questions.