Greek Crest men's Shirt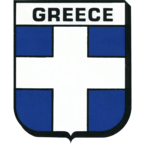 About This Shirt

You won't have to drop a lot of drachma to show your love for the birthplace of culture and civilization. What's not to love about the place that gave us an organized, polytheistic religion that involved Zeus disguising himself as a swan to get ladies, Odysseus fighting against the destructive will of Poseidon, Theseus defeating the badass minotaur, Asterion, in King Minos' twisted labyrinth, Discord throwing a Golden Apple into a party and getting Hera, Aphrodite, and Athena to fight over it like crazy bitches on "The Maury Povich Show," and Dionysus, a god of wine and madness. Greece is the great place that gave us dishes like spanakopita, spanakotyropita, baklava, moussaka, gyros, and pita bread. Greece also gave us great, important figures in culture like Aristotle, Socrates, Homer, Christina Onassis, Aristotle Onassis, John Stamos, Tina Fey, Zach Galifianakis, Nia Vardalos, Alexander the Great, Telly Savalas, and Maria Menounos. Show your big fat Greek pride with this Greek crest on your favorite tee shirt exclusively from the Windy City's most worldly tee shirt shop, Strange Cargo. So get yourself a heaping helping of baklava, pour yourself some fine wine, order yourself a Greek crest tee shirt, and celebrate all that makes Greece wonderful.
Have questions about our shirts? Need details on sizing and fit? Get all your questions answered right here.
We offer USPS Priority Mail shipping for all orders to anywhere within the United States. Want to know when you'll receive your stuff or how we ship? All is revealed in our frequently asked questions.