Detroit Grand Prix men's Shirt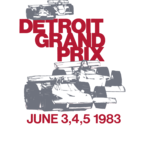 About This Shirt

Is there anything Detroit doesn't have to offer? The home city of Ford, Chrylser, and General Motors show the world that thought there may be many different cars manufactured all over the world, Detroit, Michigan is still the automotive capital of the world. Major sports teams like the Detroit Lions, the Detroit Pistons, and the Detroit Tigers tear up the wild world of sports every week, showing that Detroit is also the home of great sports action. Of course, we would be sorely lost musically without the contributions of Detroit Rock City! Detroit not only gave the world the great sounds of Motown Records, it also produced icons like George Clinton, Aalyiah, Alice Cooper, Florence Ballard, Jack White, Aretha Franklin, Ted Nugent, Marvin Gaye, Smokey Robinson, and Diana Ross. There was also one weekend in June of 1983 where Indy car racing came zooming into the motor city at the Detroit Grand Prix! The twelfth largest city in America needs some love, so get this great custom Detroit tee shirt today from Strange Cargo, a Chicago-based store with a whole lotta Detroit love! This shirt is perfect for your next trip to Detroit, your next trip to the bar to watch the Pistons play, or for any sunny day you feel like representing one of the greatest major cities in the beautiful Midwest!
Have questions about our shirts? Need details on sizing and fit? Get all your questions answered right here.
We offer USPS Priority Mail shipping for all orders to anywhere within the United States. Want to know when you'll receive your stuff or how we ship? All is revealed in our frequently asked questions.