Cuba men's Shirt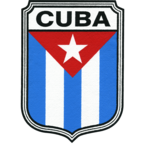 About This Shirt

Ah, Cuba. Forget things like the Cuban Missile Crisis and Fidel Castro's fifty year reign. There is so much to love about the beautiful island nation of Cuba. Cuba has given us fine Cuban cigars, delicious paella, Andy Garcia, Son music, the salsa, the rumba, the mambo, ropa vieja, and Desi Arnaz. The United States of America may not recognize Cuba as a country, but that doesn't mean you cannot appreciate all of the fine things that Cuba has given to the world. Get this Cuban crest on your favorite tee shirt and you will show everyone that you know that there's more to Cuba than Che Guevera. This design is exclusively available at Chicago's finest custom tee shirt shop, Strange Cargo. Though located in the heart of Wrigleyville, Strange Cargo offers great international prints, like this great Cuba design. So get your Cuba crest today, light up a Cuban cigar, pick up your well-loved copy of "The Motorcycle Diaries," and embrace your undying love to America's island neighbor.
Have questions about our shirts? Need details on sizing and fit? Get all your questions answered right here.
We offer USPS Priority Mail shipping for all orders to anywhere within the United States. Want to know when you'll receive your stuff or how we ship? All is revealed in our frequently asked questions.