Cinco De Mayo - Gold men's Shirt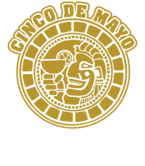 About This Shirt

It is never too early to prepare for the parties that occur after winter's thaw. March brings the joy of Saint Patrick's Day with green beer, Jameson, Guinness, and Irish car bombs. April brings the uproarious Polish celebration of Dyngus Day with kielbasa, polka music, spraying women with water, and pussywillows. Finally at the beginning of May comes one of the greatest celebrations of all: Cinco de Mayo. Started to commemorate Mexican General Zaragosa and his troops' defeat of French soldiers on May 5, 1862. Naturally, all victories of war should be celebrated with a waterfall of tequila shots, margaritas, and exquisite Mexican food. So get out your sombreros and get rowdy this May 5th. In America, Cinco de Mayo does for Mexican culture what Saint Patrick's Day does for Irish culture. So get your party outfit ready to roll for the spring of partyrockin. Get this great Cinco de Mayo shirt exclusively from Strange Cargo today, and get ready to get wild and get crazy in the streets celebrating the rich history of Mexico! So a hearty, "Ole!" to you, party animal! Be sure you are the sharpest dressed on May 5th, and make sure to keep the party going!
Have questions about our shirts? Need details on sizing and fit? Get all your questions answered right here.
We offer USPS Priority Mail shipping for all orders to anywhere within the United States. Want to know when you'll receive your stuff or how we ship? All is revealed in our frequently asked questions.