Capone's Place Men's Shirt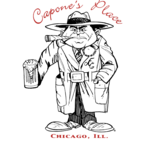 About This Shirt

When the notorious New York gangster, Johnny Torrio, came to the Windy City to "take care of" the Black Hand, he saw that the City of Big Shoulders had many interesting business prospects in the expanding Prohibition industries of bootlegging and prostitution. When Torrio was critically injured in a shoot-out, he knew that when it came to handling these delicate Prohibition matters, there was only one person in his Five Points Gang that was good enough for the job. That man was none other than the endearingly dishonorable Windy City legend, Al Capone. "Capone's Place" could refer to the Midwest in general, Chicago, Illinois, the Grand Rapids Hotel, or the Green Mill. Eliot Ness may have nabbed Al Capone for his income tax evasion, but when it came to running Chicago and the surrounding area with mobster class and gangster style Al Capone was truly the untouchable one. Income tax evasion? Nice work, Untouchables. That is only because to this day authorities still cannot pin the infamous Saint Valentine's Day Massacre in Lincoln Park on Al Capone. Capone's Place is a wonderful place of bootlegging, shoot-outs and speakeasys, the Charleston, tommy guns, bathtub gin, flapper girls, classic Chicago jazz, bullets and broads.
Have questions about our shirts? Need details on sizing and fit? Get all your questions answered right here.
We offer USPS Priority Mail shipping for all orders to anywhere within the United States. Want to know when you'll receive your stuff or how we ship? All is revealed in our frequently asked questions.