Unicycle Pig Youth Shirt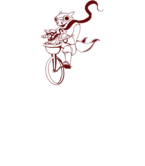 About This Shirt

This swinging, carefree swine is out to enjoy a bright sunny day on his unicycle. That smile on his face makes him more endearing than that terrific, radiant, and humble Wilbur from "Charlotte's Web" and far less annoying than Winnie the Pooh's friend, Piglet, in the Hundred Acre Wood. Certainly the sound of glee coming from his open, smiling mouth is more beautiful than anything Arnold ever said on "Green Acres." There is no doubt that he has having more fun than Miss Piggy when she and her fine swine cohorts are appearing in another installment of "The Muppet Show" favorite, "Pigs in Space." He may be the only pig who has fewer worries than Pumba, and the smile on his face may be due to rocking out to Pink Floyd's "Pigs on the Wing." His ability to challenge the laws of gravity with his one-wheeled contraption make him a much more daring pig than Piggy in "Lord of the Flies." His bipedal walk and his ability to use machines designed for humans may mean he has escaped Napoleon's Animal Farm and has found something more fun than drinking the farmer's whiskey and something more true than chanting, "Four legs good, two legs bad!" Enjoy the freedom of this little piggy (who will go to market and not stay home). Get this original Strange Cargo design today and support fun and the work of local artists and go "Weee! Weee! Weee!" all the way home!
Have questions about our shirts? Need details on sizing and fit? Get all your questions answered right here.
We offer USPS Priority Mail shipping for all orders to anywhere within the United States. Want to know when you'll receive your stuff or how we ship? All is revealed in our frequently asked questions.