Rock Monkey Ridng Ducky Mens Shirt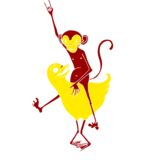 About This Shirt

Throw up the horns for the greatest rock and roll ride of your life, little monkey, because this little ducky is going to rock your face off with traveling adventures! Riding on the back of an adorable ducky is more metal than Slayer, Anthrax, Cradle of Filth, Metallica, Megadeth, Every Time I Die, and Bane put together. Yes, little simian, you are on a ride that Satan himself would envy! Throw up the horns and bang your head for the metal gods who have placed you upon this glorious ducky so you can ride free and never look back! Get metal, get rocking, get thrashing, little monkey, because you are about to rock all that you encounter! Rock all of the people you meet on the street with this rocking monkey riding this intense, hard-rocking ducky on the front of your favorite shirt. This design is a Strange Cargo exclusive, created by a local artist, so be sure to get this great image on your favorite shirt to support hard rocking and local artists. Be sure to crank up the Black Sabbath when you wear this great shirt to make a bold, rock and roll statement wherever you go.
Have questions about our shirts? Need details on sizing and fit? Get all your questions answered right here.
We offer USPS Priority Mail shipping for all orders to anywhere within the United States. Want to know when you'll receive your stuff or how we ship? All is revealed in our frequently asked questions.