Red Unicorn Mens Shirt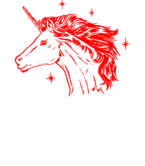 About This Shirt

It's getting pretty magical up in this bitch at Strange Cargo. Second only to cats, unicorns may be the biggest thing on the internet right now, and they are truly, epically magical. Sure, we all love "The Lost Unicorn." We all laughed at the antics of Feathers, Cadillac, and Tom Cruise in the youtube hit "Unicorn Planet" (heyyy!). Who didn't love the trip Charlie and his friends took to Candy Mountain where they encountered a bridge, singing candy, kidney theft, and a liopleurodon! We have all gotten down and dirty on the dance floor to Lady Gaga's "Highway Unicorn" on multiple occasions because, baby, we were just born that way. Unicorns are blowing up on the pop culture radar, and you certainly do not want to be left in the dust on this magical trend. So get this beautiful, magical, sensational red unicorn design from the mystical, whimsical Windy City custom tee shop, Strange Cargo today. This beautiful creature looks stunning on a variety of tee shirts, hooded sweatshirts, and tank tops, so be sure to be a fashionable part of this scrumptrulescent trend that is sweeping the world wide web and the globe today!
Have questions about our shirts? Need details on sizing and fit? Get all your questions answered right here.
We offer USPS Priority Mail shipping for all orders to anywhere within the United States. Want to know when you'll receive your stuff or how we ship? All is revealed in our frequently asked questions.