Meerkat Waiting For Bus Mens Shirt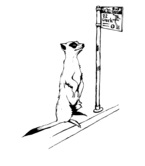 About This Shirt

"Meerkat Manor" ended and all of the meerkats found a new home touring Chicago. This little guy has been spending his time seeing all of the attractions available to him such as Wrigley Field, Weiner's Circle, the site of the Saint Valentine's Day Massacre, good bands at the Metro, and a good slice of the special at Ian's Pizza. However, this little guy cannot afford to take cabs everywhere he goes. Instead, he must wait on the bus to get to his destinations. Riding the #22 Clark is the best way to get to all of these destinations without losing your way in the City of Big Shoulders. He is definitely a courteous little passenger. He always gives his seat up for women and children, he will always give his seat up for the handicapped and expectant mothers, and he never prematurely pulls the cord before his stop. He keeps his headphones at a reasonable level so as not to disturb other passengers. Running from the Howard Red Line to Clark and Polk, this little guy has a great ride ahead of him seeing the sights of Chicago from the #22 Clark, one of the many bus lines that keeps Chicago running. Let's hope he does not have to wait long.
Have questions about our shirts? Need details on sizing and fit? Get all your questions answered right here.
We offer USPS Priority Mail shipping for all orders to anywhere within the United States. Want to know when you'll receive your stuff or how we ship? All is revealed in our frequently asked questions.