Meerkat In Front Of Chicago Picasso Mens Shirt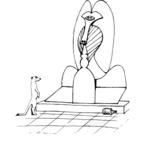 About This Shirt

If this little, adorable meerkat could speak, he would be your adorable tour guide around Chicago. Here he stands in front of the famous Chicago landmark, The Picasso, the impressive statue that stands just outside of the Daley Center in the Loop. It was put up in 1967 and was given as a gift to the Windy City by world famous artist, Pablo Picasso. Some say it is a baboon, some say it is Picasso's dog, other say it is an aardvark. The most wonderful thing about it is that the statue does what great art is supposed to do: spark debate and conversation. It also serves as an easy-to-spot landmark for meeting friends and relatives in the city, like all great art is supposed to do. If Pablo Picasso, the cubist genius, thinks Chicago is great enough to give a fifty foot statue to, then Chicago must be a pretty special town. If you like The Picasso, be sure to visit the Art Institute and see Picasso's "The Old Guitarist". There is a lot of great art to see in the Windy City, so be sure to celebrate it with this little Chicago-loving meerkat on your favorite tee shirt.
Have questions about our shirts? Need details on sizing and fit? Get all your questions answered right here.
We offer USPS Priority Mail shipping for all orders to anywhere within the United States. Want to know when you'll receive your stuff or how we ship? All is revealed in our frequently asked questions.