Green Monster Mens Shirt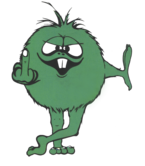 About This Shirt

This little monster with attitude is not to be underestimated. He may not be as terrifying as Jaws, King Kong, Godzilla, Jaws II, Cerebus, Cthulhu, Jaws 3D, the Minotaur, the Cyclops, Medusa, Jaws 4: The Revenge, the Loch Ness Monster, the terrifying Kraken, Mothra, Frankenstein's monster, werewolves, the Creature From the Black Lagoon, Bigfoot, Predator, Alien, jealousy, Cookie Monster, The Abominable Snowman, Spring-Heeled Jack, the Skunk Ape, Chupacabra, sea serpents, or Dracula, but this little green guy has the combined attitude of the Sex Pistols, The Misfits, The Rolling Stones, Billy Idol, Danzig, Black Flag, The Clash, The Dead Kennedys, The New York Dolls, Johnny Cash, The Damned, The Cramps, Iggy Pop, Guns 'n' Roses. So get this little badass on your favorite tee shirt, tank top, baseball tee, or hooded sweatshirt today and show the world you've got attitude, show the world you do not give a fuck, show the world that you can do whatever you damn well please. Get this great image on your favorite shirt from the Windy City's favorite tee shirt shop, Strange Cargo, and celebrate the monster within and without.
Have questions about our shirts? Need details on sizing and fit? Get all your questions answered right here.
We offer USPS Priority Mail shipping for all orders to anywhere within the United States. Want to know when you'll receive your stuff or how we ship? All is revealed in our frequently asked questions.