Dancing Mouse in Rain Mens Shirt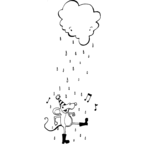 About This Shirt

Like Gene Kelly and Debbie Reynolds in "Singing in the Rain," this little mouse is having a wonderful time kicking his heels in drizzly weather. His little jig is like Mickey and Minnie Mouse or Bernard and Miss Bianca doing a Fred Astaire and Ginger Rogers routine in a spring shower. He is like Stuart Little performing a Gregory Hines routine, the Three Blind Mice doing Bob Fosse choreography, Pinky and the Brain doing the Michael and Janet Jackson "Scream" video dance, or Mighty Mouse performing like Baryshnikov. This shirt is great for anyone who would like to see Master Splinter get down like MC Hammer, Speedy Gonzales stealing the show like John Travolta in "Saturday Night Fever," or Chuck E. Cheese doing an avant garde Martha Graham dance routine. Get this little toe tapper on your favorite tee shirt, tank top, or hooded sweatshirt today and show that you would love to see Pixie and Dixie, Rizzo the Rat, Fievel, Danger Mouse, Gadget Hackwrench, and the wicked King of Mice perform great dances like those of Liza Minnelli, Twyla Tharp, James Brown, Madonna, and Ann Miller. So get this adorable Strange Cargo exclusive design on your favorite shirt today!
Have questions about our shirts? Need details on sizing and fit? Get all your questions answered right here.
We offer USPS Priority Mail shipping for all orders to anywhere within the United States. Want to know when you'll receive your stuff or how we ship? All is revealed in our frequently asked questions.