Critters Sailing Away Mens Shirt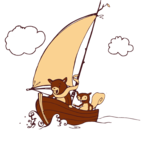 About This Shirt

Shiver me timbers! Raise the sails! Climb up to the crow's nest and keep an eye out for squid, whale, and pirates! These critters have set forth on a path of adventure, braving the choppy waves, krakens, and ghost ships like so many brave explorers and seamen before them. These little guys follow in the footsteps of famous sea-faring types like Billy Budd, Captain Ahab, Blackbeard, Captain Hook, Captain Crunch, Ishmael, Starbuck, Robinson Crusoe, Horatio Hornblower, Captain Nemo, Jason and the Argonauts, Odysseus, Fletcher Christian, Admiral Nelson, sir Francis Drake, Christopher Columbus, Vasco da Gama, Magellan, Queequeg, Bluto, Donald Duck, Popeye, Shipwreck, Captain Jack Sparrow, Gilligan, The Skipper too, The Millionaire and his wife, the movie star, the Professor, and Maryann. Share your sense of adventure, your sense of wonder, your desire to push yourself toward new discoveries, and your pursuit of the unknown with these cute critters on your favorite shirt. This original design is a Strange Cargo exclusive and perfect for the adventurer in you (or for the most adventurous person in your life). Set sail for style with this great design on your favorite tank top, tee shirt, or hooded sweatshirt exclusively from the Windy City's greatest tee shirt shop, Strange Cargo.
Have questions about our shirts? Need details on sizing and fit? Get all your questions answered right here.
We offer USPS Priority Mail shipping for all orders to anywhere within the United States. Want to know when you'll receive your stuff or how we ship? All is revealed in our frequently asked questions.