Chihuahua and Lab Gossiping Mens Shirt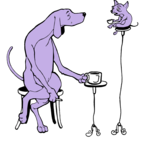 About This Shirt

Ah, a cup of coffee and a morning chat about all that is going on in life and in the lives of your friends. This fine gossiping tradition has been shared throughout the ages by friends like Roseanne and Jackie, Denny Crane and Alan Shore, Peggy Bundy and Marcy D'Arcy, the Desperate Housewives, the Golden Girls, the Designing Women, the ladies of "Living Single," Rhoda and Mary, and Edie and Patsy (well, replace "coffee" with "booze.") This Strange Cargo original design celebrates the time-honored tradition of enjoying the company of friends, sipping a cup of hot coffee, and catching up with the gossip you have missed out on. So get these two canine friends catching up on the tales and tails of the neighborhood with this great shirt from Strange Cargo. This unlikely pairing of lab and chihuahua besties looks great on a variety of tee shirts, tank tops, and hooded sweatshirts, so get your custom tee shirt for you and your bestie today.
Have questions about our shirts? Need details on sizing and fit? Get all your questions answered right here.
We offer USPS Priority Mail shipping for all orders to anywhere within the United States. Want to know when you'll receive your stuff or how we ship? All is revealed in our frequently asked questions.