Don't Hassle Me I'm Local Mens Shirt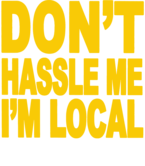 About This Shirt

Bill Murray, you deserve thanks and praise for so many things. Thank you, Bill Murray, for the brilliance of "Stripes." Thank you, from the bottom of our hearts, for the always quotable and always funny "Ghostbusters" and "Ghostbusters 2." Thank you, Mr. Murray, for "The Royal Tenenbaums," "Broken Flowers," and "The Life Aquatic With Steve Zissou." Your career has been long and brilliant, and the praise you receive is deserved, but often not enough. For all of the things, you have given us since your early days with "Saturday Night Live," thank you for the "Don't Hassle Me I'm Local" tee-shirt from the genius that is "What About Bob?" This shirt is not only perfect for any Bill Murray fan, but it is also a great design for any Chicago citizen trying to enjoy a day avoiding tourists. Wearing this shirt around the Windy City not only says you appreciate the glory that is Bill Murray, but it also says, "Do not ask me directions to the Hancock Tower. Don't ask me how to get to the American Girl Doll store. Do not ask me where the best place to get hot dogs is." This shirt both praises Bill Murray and keeps the tourists at bay; so get this great shirt from Strange Cargo today!
Have questions about our shirts? Need details on sizing and fit? Get all your questions answered right here.
We offer USPS Priority Mail shipping for all orders to anywhere within the United States. Want to know when you'll receive your stuff or how we ship? All is revealed in our frequently asked questions.