Buddha men's Shirt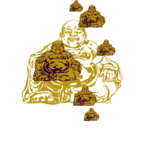 About This Shirt

In the nineties, we embraced the warmth of eastern religion and philosophy. We wore necklaces with yin yang signs, had Buddha tapestries, and listened to Nirvana. Perhaps it is time to reexamine those artifacts from decades ago and, instead of popping in our "In Utero CDs and hanging up our tye dyed Buddha tapestries, think philosophically about what drew us as a culture to the religious ideas of the East. One of the main influences on this long ago cultural phenomenon is Buddha, and luckily we have him on a shirt (that will go well with the ratty flannels that are undoubtedly tucked away with your Stone Temple Pilots CDs). Instead of firing up "Nirvana Unplugged in New York," it is time to review the Four Noble Truths of the Buddha: Existence is suffering, there is a cause to suffering, suffering can end, and that the end of suffering can be found through attaining Nirvana by following the Eightfold Path (again, this has nothing to do with Kurt Cobain's growls or Dave Grohl's drumming). Find spiritual Nirvana and fashion Nirvana with this exclusive Buddha design from Chicago's favorite custom tee shirt shop, Strange Cargo, and find a new age of enlightenment that has nothing to do with the boxes that have been in your parents' basement since 2002.
Have questions about our shirts? Need details on sizing and fit? Get all your questions answered right here.
We offer USPS Priority Mail shipping for all orders to anywhere within the United States. Want to know when you'll receive your stuff or how we ship? All is revealed in our frequently asked questions.