Afro Trucker Girl Mens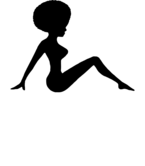 About This Shirt

Long road trips are especially exhausting. You are trapped in a car. You may be driving alone with only the company of your dying iPod keeping you company (or one radio station that only plays adult contemporary). You may be with others who want to dictate the temperature of the car, the music that is on the radio, and criticize every driving decision you make. The stretch of highway ahead of you seems endless, and the staccato pattern of white lines can become dizzying. Passing semi trucks can be a particularly stressful task as you wonder if they can even see you in your tiny Ford Focus. However, like water to a man crossing the desert, there is a visual oasis on the mudflaps of those semis. Beautiful silhouettes of those luscious trucker babes are like a beacon of beautiful hope as you make your way to your destination. Life isn't about where you end up, it's about the journey; and on the road those gorgeous babes are a sexy reminder to keep on trucking. Get this sexy trucker girl on your favorite tee shirt for your next road trip and show that you support the ladies who make the miles pass so quickly when you are stuck on the road.
Have questions about our shirts? Need details on sizing and fit? Get all your questions answered right here.
We offer USPS Priority Mail shipping for all orders to anywhere within the United States. Want to know when you'll receive your stuff or how we ship? All is revealed in our frequently asked questions.