Meerkat At Buckingham Fountain Youth Shirt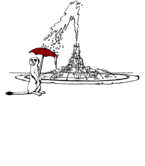 About This Shirt

Oh, little meerkat. You have wondered away from your superstardom on "Meerkat Manor" where your life was narrated by Stockard Channing to find the cool spray of one of Chicago's favorite landmarks, Buckingham Fountain. Located in Grant Park, it is an easy destination to get to after viewing paintings and sculptures at the Art Institute, taking pictures of your distorted reflection in the Bean in Millennium Park, or seeing the architecture of the Loop in downtown Chicago. Little meerkat, do you know you are standing at the very point at which "Amazing Race 6" started contestants on their fantastical journey around the world? Little meerkat, there is no way you could understand that you are standing right in front of Buckingham Fountain, the Chicago landmark that was featured in the opening credits of one of the greatest television sitcoms of the nineties, "Married...With Children." You stand there with your adorable umbrella, protecting yourself from the beautiful spray of this great landmark, and you are unable to process how funny Peg, Al, Bud, and Kelly Bundy were back in the glorious days of nineties television. Look at you, little meerkat, away from your group and wandering the streets of Chicago. It's a good thing you have found such great attractions in the Windy City.
Have questions about our shirts? Need details on sizing and fit? Get all your questions answered right here.
We offer USPS Priority Mail shipping for all orders to anywhere within the United States. Want to know when you'll receive your stuff or how we ship? All is revealed in our frequently asked questions.