Jim McMahon Youth's Shirt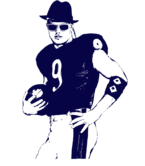 About This Shirt

How does one make a memorable entrance? How does one make their mark when stepping into an already bright spotlight? A tuxedo? Flashy bling? A royal procession? How about carrying an open beer into your first public appearance after being drafted by the Chicago Bears? Who cares if it makes Da Coach mad? He?s the punky QB known as McMahon, and his attitude and humor in no way impaired his skill and dedication to the game of football. If William Perry was ?The Fridge? and Walter Payton was ?Sweetness?, then Jim McMahon should have been called ?The Attitude?, because he brought it to the field every game and it helped the Chicago Bears become Super Bowl Champions! His play-action passes and cool sneaky handoffs helped elevate him to a quarterback that was difficult to predict and in Super Bowl XX he became the first quarterback in Super Bowl history to rush two touchdowns. Jim McMahon set the bar high for himself as the punky quarterback with a beer in his hand a seething Mike Ditka breathing down his neck, but he lived up to every bit of it and won the hearts of Chicago Bears fans.
Have questions about our shirts? Need details on sizing and fit? Get all your questions answered right here.
We offer USPS Priority Mail shipping for all orders to anywhere within the United States. Want to know when you'll receive your stuff or how we ship? All is revealed in our frequently asked questions.