I Love Chicago Youth Shirt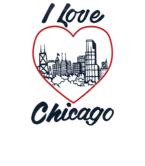 About This Shirt

There is a lot to love about the Windy City! Come visit Chicago, the place that birthed the Lawrence Arms, the Smashing Pumpkins, and Naked Raygun! Take a walk along the lake at North Beach and skip stones along the waves of Lake Michigan. Visit famous bars in Chicago like the L & L Tavern, the Billy Goat Tavern and Grill, the Cubby Bear or Cocktail. Have a slice of the famous, cheesy Chicago-style deep dish pizza at Giordano's or get a delicious Chicago-style hot dog at Weiner's Circle. Catch your favorite Chicago sports team doing what Chicago sports team do best: winning! Head down and show your Southside pride and cheer on the World Series Champions, the Chicago White Sox! Scream your lungs out at Soldier Field for the Super Bowl Champions the Chicago Bears! Head over to the United Center and root for the three-peat NBA Champions, the Chicago Bulls, or the 2010 Stanley Cup winners, the Chicago Blackhawks! Check out the architectural history of Chicago down in the Loop and see where movies like "The Dark Knight", "Batman Begins", "Transformers", "Adventures in Baby-Sitting", "Ferris Buller's Day Off", and "The Blues Brothers" filmed their classic scenes with the Second City as a beautiful supporting character. There is a lot to love about Chicago; we recommend getting this design on your favorite tee shirt, touring the Windy City, and falling in love with a city that's second to none!
Have questions about our shirts? Need details on sizing and fit? Get all your questions answered right here.
We offer USPS Priority Mail shipping for all orders to anywhere within the United States. Want to know when you'll receive your stuff or how we ship? All is revealed in our frequently asked questions.