Da Coach-Sideview Of His Greatness Youth Shirt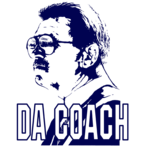 About This Shirt

"Iron Mike" Ditka. He won a Super Bowl playing for the Chicago Bears and won a Super Bowl while coaching the Chicago Bears. Oh, and there was that third Super Bowl in between the two when he was assistant coach for the Dallas Cowboys. Mike Ditka is a man with the Midas touch when it comes to football. He knows that "if God had wanted man to play soccer, he wouldn?t have given us arms." Football, the manliest sport of all, is the world in which Da Coach reigns supreme. He drove the Monsters of the Midway to victory twice and now can be seen preaching football truth to the masses on various sports networks. ESPN, Fox, ESPN2, ESPN The Ocho: All of them want Da Coach's predictions, opinions and prophesy when it comes to the roughest, toughest ball game in American sports. Why would they pass on his wisdom? The man's accomplishments are astounding and he charged into football battle with his army ready for a fight. Soldiers such as Walter Payton, Mike Singletary, and William "The Fridge" Perry marched onto Soldier Field thirsty for the win, lead by their mustached general, fueled by the screams and cheers of adoring fans. Are you one of those adoring Bears fans? Then it is high time you invested in a custom Da Coach shirt and show your love for Da Coach, Mike Ditka, and all of the football magic he has brought into your life!
Have questions about our shirts? Need details on sizing and fit? Get all your questions answered right here.
We offer USPS Priority Mail shipping for all orders to anywhere within the United States. Want to know when you'll receive your stuff or how we ship? All is revealed in our frequently asked questions.